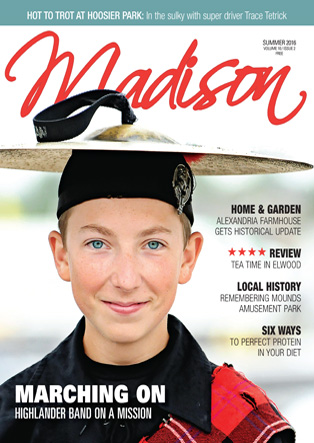 Do Madison County bands have spirit? Yes, they do. To the tune of 15 state fair marching band championships. That's more than any county in the state. And it's indicative of the cultural significance of marching bands in our area.
In this issue of Madison, Stu Hirsch chronicles the marching band experiences of three Anderson High School students. All three speak of the sacrifices they've made to be part of a state championship contender, and of the motivation provided by the rich history of local bands.
Elsewhere in this issue of Madison, sit down for a special tea at a new Elwood establishment, take a trip back in time to ride in a roller coaster at the Mounds Amusement Park, race in the sulky with a champion harness horse driver at Hoosier Park and quilt with the ladies of the Redbud Guild.
As editor of Madison magazine, I welcome and encourage your ideas for feature articles as well as general comments about our publication. You can always reach us at madison@indianamediagroup.com
Thanks for reading Madison magazine.
Scott Underwood, Editor
Life in Madison County is rich with transitions and new possibilities. Madison magazine celebrates those qualities by highlighting the people, places and events that shape our lives. In each issue, writers sample a local restaurant, visit an attractively-decorated home, check out current trends and chat with a celebrity who has local roots, among other feature articles.
Madison is published quarterly. The staff hopes that Madison compliments the traditions and transitions of Madison County while opening new possibilities for those with active lifestyles.